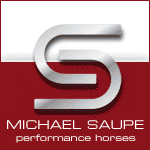 Promotion
Roleski 4 Spins 2008 – Dennis Schulz unbeaten in Poland!

Dennis Schulz (AUT) kept his last year's promise to return to Poland for Roleski 4 Spins 2008. And he returned in style, winning both shows in NRHA Open division. It was his third and fourth Champion title in four outings in Poland!

This year's Roleski 4 Spins gathered 60 horse and rider combinations, which is the double of last year's number of entries. 7 nations were represented in Stare Zukowice: Austria, Czech Rep., Germany, Holland, Poland, Russia and USA.

Saturday's show started at 8 a.m. with NRHA Intermediate Open and a record breaking number of entries in Poland: 22 horse and rider combinations. The highest score, 214,5, was posted by Dariusz Teneta aboard BRS Freckles Payday. There was a tie for the second place between Clint Ramsey on Lean With Hollywood and Ton de Rooy riding Saildorado. Both earned a score of 212,5. Next spot went to the only lady in this division: Klara Salkova with Smart Chiconita (210).

Another Polish rider, Adrian Motyka, was crowned NRHA Rookie Champion. He guided Miles O Rima to a score of 207. In NRHA Snaffle Bit/Hackamore Open, Karel Kubata from Czech Rep. earned the top score with DRF Chicklette. And Marketa Kusova won the NRHA Youth 14-18 division, riding Chexs Golden Shoot.

Roman Zimmermann (CZE) guided RDH Genuine Cookie to a score of 211,5 and the NRHA Non Pro Champion title, thus winning his second Lawson Bronze Trophy in his career. Saturday's Non Pro division was dominated by Czech riders: Market Kusova and Chexs Golden Shoot were second and Ondrej Slamjak aboard Smart Little Joker came third.

There was 13 entries in NRHA Open. Dennis Schulz made a very good run, getting a plus for each maneuver. His spins, speed control and stops were impressive. He was crowned Open Champion with a score of 222, riding Smart Rattle Snake. Alexander Ripper came second and third, riding Shez Fritz Jewel and Slide N Chic respectively (217 and 216,5).

Ripper, former FEI European reining Champion, was crowned NRHA Int. Open Champion on Sunday. He guided Slide N Chic to a score of 215,5. The Reserve Champion title went to Dominik Reminder on GR Sir Colonel Bee (214). Dariusz Teneta was third with Roosters Hot Piq.

Karel Kubata won once again the NRHA Snaffle Bit/Hackamore division, posting a score of 210 with DRF Chicklette. And Marketa Kusova bested the field of 10 riders in NRHA Youth 14-18. In NRHA Youth 13&under, Brenda Lesniczakova (CZE) guided Miss Pinestein to the Champion title.

After Roman Zimmermann's Saturday's winning run in NRHA Non Pro, all non pro competitors seemed a little bit overwhelmed with the pressure. Sandra Friesenbiller (AUT) handled it perfectly and showed good reining aboard Genuine Dry Peppy. With a score of 212,5 she became NRHA Non Pro Champion and won 851 USD. Marketa Kusova was second with Chexs Golden Shoot (207,5) and Stefan Deredowski (POL) came third.

The 10 000 USD added NRHA Open gathered a full house of spectators. The arena was packed with more than 1000 persons watching reining at its best. 9 from 14 entries posted a score above 210. Once again the best run was delivered by the perfect duo: Dennis Schulz and Smart Rattle Snake. This time they earned a score of 219 and more than 3000 USD in prize money. Alexander Ripper did his best to beat Schulz. He entered the arena with Slide N Chic as the last competitor to go. His good run earned his a score of 218 and the Reserve Champion title. With his second horse, Shez Fritz Jewel, he finished third (216).
Dennis Schulz was awarded a trophy saddle worth 6000 USD. The saddled was offered by Marisita Saddlery from USA.

Roleski 4 Spins 2008 was a huge success. We are already looking forward for next year's edition, which will hopefully be even more exciting!
On behalf of the show management and Roleski Ranch owners, we would like to thank all our sponsors, participants, our video crew (RH Video), our announcers (Boris Kook and Mariusz Siwiec), our judges (Sylvia Katschker, Alain Kronshagen, Filippo Masi) and scribes (Jitka Kynclova, Zosia Zablocka, Damian Wroczynski). A special thank you goes to Wittelsbuerger.com and all other sites and magazines for their support in promoting our event. Thank you and see you next year in Poland! Vorbericht

An diesem Wochenende wird auf einer der größten Westernreitsportanlagen in Polen, der Roleski Ranch in Stare Zukowice ca. 90 km östlich von Krakau, erstmals eine von drei Richtern gerichtete Reiningshow stattfinden, die Roleski 4 Spins. Insgesamt über 17.000 USD Presigeld werden ausgeschüttet, für den NRHA Open Champion gibt´s am Sonntag einen Marista-Sattel im Wert von 6.000 USD!

Reiner aus Deutschland, den Niederlanden, Österreich und Tschechien haben gemeldet:
Alexander Ripper kommt mit drei Pferden, der Deutsche Jugend-Meister FN Reining aus 2005 Dominik Reminder, Dennis Schulz, Ton de Rooy, Clint Ramsey und viele tschechische Reiter wie Klara Salkova, Ivan Cernoch und Karel Kubata.
Die Teilnehmer am Samstag
Die Teilnehmer am Sonntag
U.a. gehen diese Pferde an den Start: KS Whizaway, Black Whizard Jac, Smart Rattle Snake, Saildorado, Many Golden Smarties, RS Blue Jac Olena und Slide N Chic.
Aus den USA wird Ian Barnard, der Präsident der National Reining Horse Youth Association (NRHyA) kommen, der am Samstag Abend u.a. das Gespräch mit den jungen polnischen Reitern suchen wird.
Gerichtet wird das Turnier von Sylvia Katschker, Alain Kronshagen und Filippo Masi , die Ansage macht boris Kook, der u.a. die NRHA Futurity 2007 in den USA beschallte.
Für die Bildaufzeichnungen ist das Team von RHV Videoproduktion, Vanessa und Roland Hahn, vor Ort.

Die 2005 gebaute Anlage verfügt über eine 30 x 80m Halle mit Platz für 800 Zuschauer, einen 40 x 50m-Außenplatz sowie 60 Boxen. Zu den Gästezimmern sind zudem noch ein Restaurant mit Bowlingbahn, eine Golf Driving Ranch, Quad Trails, Segway® Benutzung, Swimming Pool und Kindergarten im Angebot.

Mehr dazu
Alle Ergebnisse, Bilder und Informationen zu der Roleski 4 Spins 2007


Größere Kartenansicht



Fragen? Die 20 wittelsbuerger.com-Experten helfen gerne weiter,
z.B. Nico Hörmann, Grischa Ludwig oder Daniel Klein für den Bereich Reining.
Zum wittelsbuerger.com-Expertenforum gelangen Sie hier.