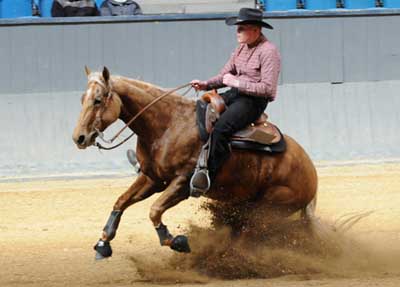 NRHA Bronze Trophy
Only 15 years old, Anders Emil Øhrstrøm and TC Golden Jac won the NRHA Open Morrison sponsored by Game Ready Equine, with a very nice 70 score. This was the first show in Denmark this year, and only 10 riders was in the class.
Grischa Ludwig and Game Ready Equine
This show was only able to be a reality because of the support of many different persons and companies. Special Game Ready Equine, which is also supporting Grischa Ludwig through the Danish importer, was a big support. They sponsored both the Morrison and the Pewter class. Take a look at this remarkable machine at gamereadyequine.com
VIP-area
Never before has a Danish show offered so much to the riders, sponsors and spectators. A very nice VIP-area with chairs and tables, nicely decorates with red tablecloth, lights and flowers, was two times a day set up with a very nice buffet, drinks and wine. Café was free all weekend, and two times a day there was also home baked cookies.
Yes, more than 60 people were treated special in the VIP-area.
"Maybe for JUST SLIDE no. 2, I will offer even more luxury in the VIP area. It seems like the guest liked it.", says Sanne Skovrider, who was the creator of this show.
Saturday night show
After the riders did there very best, Saturday night was pure entertainment.
First about 10 pony riders were speeding up in a duel jumping competition: Agility with dogs that was faster than the light was next. Also Ponies dragging a carriage and high dressage was on the program. Cutting with the beautiful stallion "Play upon a Star" and enormous American cars like GMC, Lincoln, Ford and Chevy did get the male spectators in gear.
All this took place while the riders were just relaxing in the vip-area, with good food and wine.
Just Slide no. 2
"JUST SLIDE no. 2 will be in autumn 2008 and I hope to be able to announce a LAWSON, a MORRISON and a PEWTER the next time" she says. "Hopefully it will drake both riders from Germany and Sweden and maybe other countries also".
A partner for JUST SLIDE
Sanne Skovrider is looking for a partner to make these shows. "I need a partner to finance some of the PR work around these shows. A company or a private person, that really would like to support reining in Europe" Sanne says. She likes to be able to put up CRI classes in 2009 and maybe make the JUST SLIDE in association with a jumping show in the future.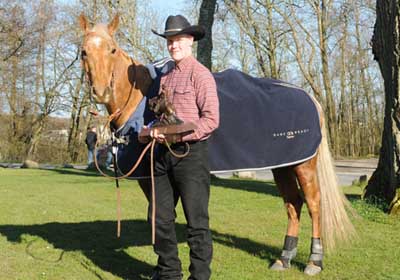 Read more about the JUST SLIDE no. 2 on www.justslide.dk. It will be translated into English in about 8 weeks.

Add this page to your bookmarks!