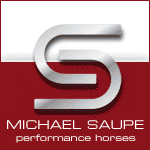 Promotion
The final of the ERAA Appaloosa Reining Futurity which is approved by NRHA USA is scheduled for Sunday morning, September 7, 2008. The go round will be the last class on Wednesday, Sep-tember 3, 2008.

This new AMERICANA class completes the reining programme of the "Mekka of Western riding" at Augsburg, Germany (September 3-7,2008). The highlight will again be NRHA Lawson Bronze Trophy Open with EUR 30,000.-added with its final during the evening show "Run of the Stars - Reining at its best" on Thursday, September 4. The go round for this class will be on Wednesday, September 3 at about noon.

But the other reining shows are really worth watching as well: NRHA Lawson Bronze Trophy Non Pro, NRHA Maturity Open 5 years & older, NRHA Maturity Non Pro 5 years & older, Reining Fu-turity Open 3-year-old, Reining Derby Open 4-year-old, Reining Derby Non Pro 4-year-old, NRHA Bronze Trophy Limited Open, NRHA Freestyle Reining Open, NRHA Freestyle Reining Non-Pro, European Championship Reining Youth.

Altogether, there are 12 reining shows during this event, not counting the reinings which are part of the Working Cowhorse and European Reined Cow Horse Futurity.

Ticket sale for the 2008 AMERICANA evening shows has just started. Tickets can now be or-dered under www.americana.de . Then follow the button "visitors". Tickets can also be orderer by mail. For this, simply download the visitors' brochure with the necessary form. Tickets should be ordered well in advance, as the best seats of the evening shows are sold out quickly.

The first AMERICANA evening show starts on Thursday, September 4, at 8 p.m. "Run of the Stars - Reining at its best!". There'll be show, entertainment and two very attractive finals: the Masters Pleasure and the NRHA Bronze Trophy Open with a purse of EUR 30,000.-- added.

The evening show "Cow Horse Festival" on Friday September 5 at 8 p.m. offers another exciting night of fun and top competition. There will be the finals of the Reined and Cow Work in the European Reined Cow Horse Futurity. Also, there will be the EC-final in the Western Pleasure and the Best of Freestyle Reining. The third evening show "Cutting Spectacular" is dedicated to the final of the European Championship in Cutting and Working Cowhorse.
If you do not want to miss anything you should buy an 'all-inclusive' ticket giving you free admis-sion during all the days as well as the evening shows. But tickets for only one day are available as well.
Besides high class western sport, AMERICANA attracts due to its very special flair. There is a lot of entertainment and the largest fair of this kind in Europe. You 'll find the Red Grizzly Saloon, the Western Town and plenty of Country Music. The organizers expect more than 200 exhibitors offering a unique variety of products both for competition and fun. In 2006, 241 exhibitors offered their products.
If you are interested in exhibiting or advertising at AMERICANA, please refer to www.americana.de . There is a special brochure for exhibitors which can be downloaded unter "exhibitors". Please order spaces soon as there are already quite a lot of requests for the best spaces.
For competitors, 2008 AMERICANA already starts on August 31 with the go rounds lasting until the start of the fair on September 3.
During the visitors' days there will be first-class competition during the day with the best horses and riders. The evening shows present sportif highlights combined with fun and show. Please look at www.americana.de . For further information please contact +49 (0)821-58982 301, con-tact for competitors and forum participants +49-7004 2637 422.

All AMERICANA details on wittelsbuerger.com


Add this page to your bookmarks!