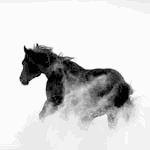 Promotion
A renowned international competition, the Western International will feature 400 horses from 20 countries competing for more than $250,000 in prize money. The World Reining Masters event also is expected to draw up to 60,000 attendees, including more than 3,000 international guests. Along with the Stallion Select Futurity, the six-day event includes the $100,000 World Reining Masters Finals, NRHA Mountain US Regional Affiliate Finals, $10,000 Mile High Derby and $10,000 Challenger's Cup Freestyle Reining.
Reining is the fastest growing equestrian sport in the world, and is under consideration to be included as the fourth equestrian discipline to the Olympic Games, along with stadium show jumping, dressage and three-day eventing. The sport would be the first western discipline at the Olympics.
The National Western Stock Show and Phillips Run, a California-based production company with an active interest in equine sports, have partnered to manage and produce the 2006 World Reining Masters event. For more information, visit our website at WesternInternational.us.