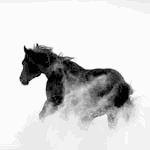 Promotion
This year is as everyone knows a very special year for reining. The goal for SRHA during 2006 is to get as much publicity out as possible, mainly about our new program but also about our Swedish Reining Team and its members. With our second try to qualify to The World Equestrian Games we have managed to do so and by that made one dream come true for Swedish Reiners; a Swedish flag will bee seen in Aachen this fall. And also to have such a great team that is eager to represent their country in this big prestigious event. We think that Lucky Rider Magazine is the perfect partner for this trip, they will follow up on all happenings not only in Sweden, but also follow the bigger shows and events in Europe and USA. They will both be in our footsteps and at our side to help us be better and reach longer than before, this will be a joyful ride. You can find more about Lucky Rider western lifestyle magazine on our website www.srha.nu or theirs www.luckyrider.se

SRHA Sire & Dam Program
Lucky Rider will also promote the SRHA Sire & Dam Program in the Magazine, where all the stallions that had enrolled in the program will be presented during 2006.

Stallions that have their breeding sold by the program will be presented with photos in Lucky Rider Magazine during summer and of cause awards photos after the Derby. Swedish Reining Horse Association Sire & Dam Program will be working almost as the original NRHA version. So to enrol your stallion, you donate a breeding to the program and the program sells it for half the stallion's published breeding fee. Mare owners buy the breeding for that prize and the offspring can then enter the SRHA Derby to a reduced entry fee as a 4-5 and 6 year old. To get a head start, all stallions enrolled this year, earns the right to enter one 4-5 or 6 year old offspring to a reduced entry fee in this years Derby. Stallions will also be promoted on the SRHA website and it will also be there you find YOUR breeding to half the ordinary prize. All offspring's will compete for the Sire & Dam award every year both in the Open and Non Pro Derby. The stallions will also be awarded a Sire & Dam Prize if their offspring is the top Sire & Dam offspring that year.

Awards will be given out already 2006, so if you are interested give us a call or e-mail.
Take a look at the SRHA website www.srha.nu for more information about Swedish Reining, Sire & Dam program in Sweden and also our shows with the Derby held in September. Maybe you want to buy a Swedish horse! If you are looking for a stallion .. you don't want to miss this great opportunity.